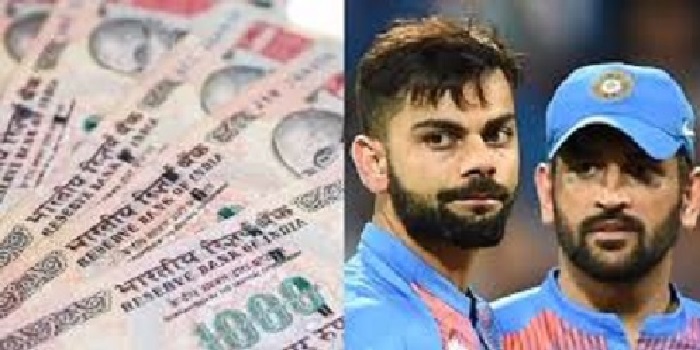 If you are happy with your increment then you should read this, Indian cricketers get 100% hike.
April 2, 2017
It's the end of the financial year and many of us might have already received our appraisals and are already raving about it but this news will disappoint you now. Are you happy with the 30-40% hike that you have received? According to the latest report, the annual retention ship fee of 32 centrally contracted cricketers was doubled. Yes, you read it right. They were given a 100% hike. It is said that grade A players will get up to 2 crore for the annual year as compared to 1 Cr that they were getting last yr while Grade B and C players will get Rs 1 crore and Rs 50 lac respectively.
The match fee for Test matches has been hiked. All the payments will be in effect from October 1, 2016.
The seven cricketers in the top bracket are Dhoni, Kohli, Cheteshwar Pujara, Ajinkya Rahane, Ravichandran Ashwin, Ravindra Jadeja and Murali Vijay.
Below is the list of players according to their grade:
Grade A: Virat Kohli, MS Dhoni, R Ashwin, Ajinkya Rahane, Cheteshwar Pujara, Ravindra Jadeja, Murali Vijay.
Grade B: Rohit Sharma, KL Rahul, Bhuvneshwar Kumar, Mohammed Shami, Ishant Sharma, Umesh Yadav, Wriddhiman Saha, Jasprit Bumrah, Yuvraj Singh.
Grade C: Shikhar Dhawan, Ambati Rayudu, Amit Mishra, Manish Pandey, Axar Patel, Karun Nair, Hardik Pandya, Ashish Nehra, Kedar Jadhav, Yuzvendra Chahal, Parthiv Patel, Jayant Yadav, Mandeep Singh, Dhawal Kulkarni, Shardul Thakur, Rishabh Pan.